Thatcher's rants and musings 2006
---
rants index: current | 2016 archive | 2015 archive | 2014 archive | 2013 archive | 2011 archive | 2009 archive | 2008 archive | 2007 archive | 2006 archive | 2005 archive | 2004 archive | 2003 archive | 2002 archive

---
# permalink
29 Dec 2006
Botswana
I've been in Botswana for a couple months now. There's a little too much to properly blog about, but here are some tidbits:
The capital of Botswana, Gaborone, where we live, could be mistaken for a newish American suburb. Shopping malls: check. Multiplexes: check. Acres of manicured ranch-style homes, check. Coffee shops, check. Family eateries, fast food, Chinese, Indian, Thai restaurants: check, check, check, check, check. Last time we lived here, in 1999, Julie and I used to play a game called "you know what they need here?" And then we'd say "Taxis!" Or "Pad Thai!" Or "Pizza delivery!", etc. Now, in 2006, the only two consumer items I really miss from America are 1) a burrito, and 2) an edible hamburger. Botswana gets a pass on the burrito, since NYC doesn't even have a decent one. The burger is a bit of a mystery since Botswana's second leading export is beef, every restaurant serves affordable steak which is usually pretty good, and the fast food fried chicken is often better than at home. Don't get me wrong -- burgers are on offer -- they're just digusting. They mix something into the patty to make it taste like greasy styrofoam, and then douse it in an approximation of sweetened motor oil. Mmm.

Food items from here that I would like to see back in America: Bokomu Fruity Flakes cereal (photo) (it's just good, I think it's puffed rolled wheat with bits of dried fruit), Salticrax (photo) (like Ritz but without the weird artificial aftertaste), Red Label Lemon Creams (curiously lemony), the Spur Steak House "Hot Rock" dish (they give you a platter with raw meat and a red-hot piece of grill surface; imagine hazardous Korean barbecue at TGI Friday's), Appletiser (basically, carbonated apple juice), soft drinks and candy in general (sweetend with cane sugar not high-fructose corn syrup), the "Ten Pula Lunch" (a heaping plate of grilled meat, coleslaw or other pickled item, and choice of starchy substances for the equivalent of $1.50, served by the side of the road), Fatcakes (homemade deep fried yeasty bread dough), french fries (aka "chips" -- ubiquitous, not crispy, but fresh and kind of mushy and made from slightly sweet flavorful potatoes -- fabulous). The restaurant and packaged food in Southern Africa is a bit antiquated compared to the good old USA. It often seems to be made from actual ingredients according to an actual recipe, with a curious absence of guar gum.

I was driving around one day, and pulled out behind a tractor-trailer truck. It was a big, all white, double-trailer job. Painted on the sides of both trailers, in large, blue, slightly irregular capital letters, was: "HUMAN'S". That's all, just "HUMAN'S" on the sides and back of two windowless trailers. As I drove along behind the truck, I thought "I wish I had my camera!", "Hm, so what IS in there?", "They wouldn't dare haul humans, that would be crazy...", "But if you were smuggling humans, wouldn't it be ballsy to paint HUMANS on the truck?", "Somebody really ought to pull them over and take a look." Moments later, the HUMAN'S truck slowed down and pulled onto the shoulder at a police roadblock. The police waved me on, so I continued past, and didn't get to observe the inspection, so that was that.

But a week or so later, I saw another HUMAN'S double-trailer -- almost identical, except on the back of the rear trailer, underneath "HUMAN'S" was a slogan in painted script: "Your reliable hauler!"

Julie still thinks I'm making it all up.

There are now lots of personal taxi services around for rich expats like me, for when the car is in the shop. But the true public transport are the "combis", which are Toyota minivans that carry around 20 people (in a space that 8 or so Americans would find cramped), piloted by teenaged boys. Combi drivers are more than a little intimidating to us mortal drivers on the road. Anyway, one day I was driving behind a combi, and ahead of us a skinny but cute puppy dog ran into the road to dine on a bit of what looked like roadkill. As a lover of all things cute and puppy dog, I wasn't quite prepared for what happened next: the combi swerved TOWARDS the puppy, and accelerated to boot! Fortunately the cute puppy, in its short but no doubt violent life in Africa, had learned to be ever vigilant, and it scampered off the road, far enough back that the combi reluctantly returned to the pavement without scoring a hit.

Another combi observation. Driving along, I saw someone in a small sedan make a turn in front of an oncoming combi, slightly impeding the combi's rapid advance. The combi driver, road enraged, pulled a weapon from on top of the dash. Not a gun, mind you, but a switch -- i.e. a long slender branch with the bark whittled off, that thing you use to whip naughty children or dogs or what-have-you. "Ha ha, funny," I thought, but this was no joke -- as the turning sedan pulled past the combi, the combi driver took a mighty swipe at the driver of the sedan, and very nearly striped the other driver, through the sedan's open window!
---
# permalink
15 Dec 2006
Printer Drivers
In the 21st century, there should be one single printer driver that works with any printer. There's a web server in my printer, for cripes sake; don't tell me it can't serve a little bit of metadata to tell my computer which one of three printer languages it uses.
HP is going to hell for this.
---
# permalink
13 Dec 2006
GNU emacs 21.4 binaries for Windows
---
# permalink
25 Oct 2006
More Tshirt
I put another t-shirt design on threadless.com, please vote for it:
In other news, I'm moving to Africa.
---
# permalink
4 Oct 2006
poot
I've been playing around making T-shirt designs. My supply of band T-shirts has dwindled over the years to almost nothing, and I'm too uncool to find new ones. I'm left with computer-related shirts, and the random stuff people give me. So it's time for some new shirts. My first attempt was a Pokey-themed design, printed courtesy of zazzle.com: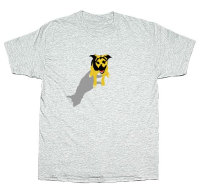 You can click on the picture above and order one for yourself. They use a kind of fancy iron-on process similar to Cafe Press. When I first got my shirts I was a little bummed by how the printing looked, but after a washing I think they look pretty decent.
Anyhoo, I also came across http://threadless.com which is kind of fascinating -- they accept T-shirt designs from anybody, and anybody can vote on the designs. Every week or so they pick the best designs from that week and screen them, and sell them online. It's all very cannibalistic/mad-cow-disease. I do like the concept of designs for the sake of aesthetics, without trying to promote a brand, whether its a band or product or political party or what have you.
Here's where you come in: I have submitted a design, and I want you to vote for it, so they will screen-print it and make me rich and famous! Click on the doggie, and give it the highest rating your conscience permits:
(Truth be told, the pooting dog is based on an old Sinkhole T-shirt I drew. Next time I will try something more novel.)
---
# permalink
12 Sep 2006
AJR
Ambush At Junction Rock has a myspace page. With music. OMG!
---
# permalink
23 Aug 2006
Plotting Burndown Charts
I just wrote a small note about plotting burndown charts using gnuplot.
---
# permalink
19 Aug 2006
Scatologist
I recently had this conversation with Hazel:
H: [whiny voice] "Daddy?"
T: "Yeah? Close your eyes, Haze, it's time to go to sleep!"
H: "Daddy? My finger is all sticky!"
T: "What?"
H: "My finger is sticky! Here!"
T: "Let me see." [Feels finger. Not sticky. Maybe a little moist.]
T: "It's not sticky."
H: "No, sticky !"
T: "What?"
H: "Smell it!"
T: "Hm, OK." [Smells finger.] "Woah!! Your finger is really stinky ..."
H: "It was in my butt!"
---
# permalink
12 June 2006
Nice Dick
I went to Barnes & Noble to get a copy of Philip K. Dick's A Scanner Darkly, thinking I would like to read it before the movie comes out. They didn't have it (B&N has got to have the worst content-to-square-footage ratio of any bookstore in known history), but they did have Time Out Of Joint, published in 1958, which I had never read before. It's an incredibly vivid paranoia fable, though it peters out some towards the end, like many of the pulpy Dick novels. Still better than just about anything else I could read on the subway.
---
# permalink
30 Apr 2006
Dogorrhea
'Nuff said.
---
# permalink
4 Feb 2006
Fashion Cycles
I just realized why some fashions seem to recur on ~30-year cycles -- it's a way for young hip people to feel more authentically grown-up. They have childhood memories of their parents or other adults wearing paisly shirts or legwarmers or raybans or mustaches (depending on the era & the parents). The younger generation is dressing up like their memory of their parents. And so it propagates.
Is this common knowledge? I need to start dressing a little better for Hazel's sake.
In other news, socks are your feet's underwear.
---
# permalink
24 Jan 2006
Time Stretch
MythTV has a great feature called "Time Stretch", where you can speed up TV programs. Great for NewsHour; right now I'm watching slimebag Alberto Gonzales try to justify illegal wiretaps, 1.2x faster (and shorter) than real time.
---
# permalink
9 Jan 2006
Movie Awards
Happy New Year everybody.
What's on my mind? A big raspberry to the big movie awards, that's what. The Critic's Circle awards just came out, and they're ridiculous. The Academy Awards will be equally annoying. Nobody cares about the Golden Globes, including me.
A special big raspberry to the movie critics with bad taste who recap the plot in their reviews. To cleanse the sour aftertaste of a year's worth of professional malpractice, I give you Thatcher's First Annual Sunday Night At The Movies awards:
Best Picture -- Head On
Best Comedy -- The 40 Year-Old Virgin
Best Action Movie -- Kung Fu Hustle
Best Korean Mind Blowing Stomach Churner -- Oldboy
Best Big Budget Men-in-tights Flick -- Batman Begins
Best Picture Starring Scarlet Johansen -- In Good Company
Best Musical About A Pimp -- Hustle And Flow
Weirdest Use Of Deadwood-style Antique Diction -- Firefly
Biggest Disappointment -- Syriana
Biggest Waste Of Time -- Crash
Worst Animated Film -- Steamboy
Slowest Art Flick -- Broken Flowers
Most Overrated -- Capote
Worst Acting -- Everyone in Episode III
Movies I Didn't See That I Will Probably Like -- The Constant Gardener, Walk The Line, Pride And Prejudice, Good Night And Good Luck, The Sisterhood Of The Traveling Pants
---
rants index: current | 2016 archive | 2015 archive | 2014 archive | 2013 archive | 2011 archive | 2009 archive | 2008 archive | 2007 archive | 2006 archive | 2005 archive | 2004 archive | 2003 archive | 2002 archive