Home | Records: Groping For Trout, Space Freak, Core Sample, Retrospectacles
Sinkhole/New Sweet Breath tour diary, fall 1996
by Thatcher Ulrich
Originally written at the behest of Mike Fournier intended for Chakahola fanzine, but I don't know if it was ever actually published.
---
The cast:
Sinkhole: Jon (guitar), Eliot (guitar), Chris (drums), Thatcher (bass), and Jon's small Nissan pickup truck with cap and extended cab (transportation).
New Sweet Breath: Graig Shock (guitar/singing), Nick Rock (bass), Pat (drums), Steve "Chef" Mohlman (driving, motivation), and The Dreamer, a gigantic Dodge RV (transportation)
Fri, Oct 25, Elvis Room, Portsmouth NH
Viejo opened up with Doc Hoffman on lead bass. They've got a Jawbreaker-ish emo thing going, and Nick sets his drums lower than any other 6'3" drummer I've ever seen play, so they're quite a spectacle.
New Sweet Breath came up next and kicked some booty. I think it was one of the better performances I've seen them do. They played a lot of unfamiliar songs, newer even than their new album, which was cool. No nudity, however.
We played after that, and it was pretty fun.
Al Quint interviewed the Breath after the show, followed by another local zine. No one tried to interview us; I guess the local 'zines have caught on to the curse of Sinkhole.
We all retired to the Friendly Toast for some delicious toast. Eliot and Chef F ordered the Dragnet Special, a peanut butter and roasted garlic sandwich. Eliot and I went home, Jon brought NSB home with him, and Chris stayed in Allston.
Sat, Oct 26, The Red Barn, North Andover MA
I spent the day getting packed etc, and then Eliot and I drove up to North Andover, a comfortable 40-minute jaunt. The Red Barn is some kind of town youth center, and the youth was in the house and representing. Lots of kids were dressed up for Halloween. One kid in particular had the tallest mohawk I've ever seen. It turns out he was the drummer for one of the bands. The marquee outside read "Barn Concert 10/26, Hayrides 10/27". Dave, one of our hosts, took me to Burger King along with some of the guys from another of the bands, and I got caught up with the local happenings in the scene.
I borrow Rock's bass amp for our set. It's not really willing to produce Sinkhole volume levels. While we're packing up, I express my desire to bring my amp and cabinet on the remainder of the tour. This creates a little bit of a space problem, as the truck and the Dreamer are both packed pretty tight. We elect to send me in the Dreamer, along with Chris, for the next leg of the journey, thus freeing the back of the truck cab for my cabinet, since Jon and Eliot are the only two passengers in the truck. This ends up working out OK; for the rest of the tour my cabinet rides in the kitchen of the Dreamer as sort of a coffee table. Chris also rides in the Dreamer as a sort of visiting tour scholar.
The Dreamer debarks for New Jersey. I take my position in torpedo tube #1, above the cockpit, and go to sleep. Somewhere in Connecticut we stop off the highway to dump our sewage, and I roll over. We get to Chris and Liz's apartment around 6 AM. We stay there until it's way past time to go -- this is a difficult group to organize -- and then we head for Bethlehem.
Sun, Oct 27, Tatamy Fire Hall, Tatamy/Bethlehem PA
Tonight marks the beginning of a recurring theme throughout the tour: the High-school age funk-ska openening band who draws a bigger crowd than we do. After them, there's crowd-pleasing punkers "Overdrive!". Dave from Weston is at the show. I guess there's another show somewhere in the Tatamy metropolitan area, which is also a recurring theme on Sinkhole tours in general. The 40 or 50 kids at the show are in general receptive and having a good time.
We split into our respective vehicles and begin the journey towards Buffalo. Jon, Eliot and I are in the truck, listening to Weezer n' shit. We stop at a traveller's plaza somewhere near Binghamton, eat some family style vittles (another tour theme) at Perkin's, and sack out in the neighboring Motel 6.
Mon, Oct 28, American Legion Hall, Tonawanda NY (near Buffalo)
On the way through New York state, we decide to take a slight detour to Cooperstown, home of the Baseball Hall of Fame. In a local sub shop we enjoy some pizza and some Phish from the jukebox. Cooperstown is basically built around the baseball theme. The highlight of the Hall of Fame itself, for me, are in the older baseball history exhibits. Apparently the Egyptians played a ball and stick game, as evidenced by a heiroglyphic panel showing four women in two pairs riding piggy-back on each other (a la "chicken fights"), with a ball and sticks. I'm not 100% sure it really has anything to do with baseball as we know it, but it's quite an image. Also in the history exhibits I discover that the first Boston-based club was called the Beaneaters.
We arrive at the hall. Attendance is pretty thin. True to theme, there's a high-school age Funk Ska opener, "Counter-clockwise". Then a punk band, "Parafanalia". NSB, with Chris, are really late to the show, which made Jon, Eliot & I nervous, not to mention Earl, the show promoter. They pulled up just as Parafanalia was launching into their second Cream cover (traffic in the Poconos), so it turned out OK, although there wasn't much of a crowd on hand to appreciate it. 39 paying customers, to be exact. Zima, Genny Red, 3 pizzas at Earl's Soho loft-style apartment with the boys from Parafanalia makes things all right. We watch the Dukes of Hazzard -- Boss Hogg hires Bo and Luke look-alikes to commit crimes so he can put the Duke boys away for good. Of course, he's foiled by the machinations of the boys, Daisy, and Uncle Jesse.
Tue, Oct 29, Fallout Shelter, Grand Rapids MI
We (Jon, Eliot & I, "Si'hole" for short) decide to try to cut through Canada on our way to Grand Rapids, since it looks like it will cut an hour or two off the driving. We cross at Niagara Falls, procure four matching headbands at the gift shop, and take a gander at the natural splendor before us. Then it's off across Ontario, most of which is flat and relatively barren looking. There is no shortage of Tim Horton's Donut shops though, and they offer a delicacy that Dunkin Donuts would be wise to keep an eye on: sour-cream donuts. A tasty and exotic treat for our naive palates, although most of the counter-help seem to have been under deep hypnosis, or maybe they were on work-release from the Lobotomy Center. Anyway, our remaining hours in Canada are uneventful.
Michigan, on the other hand, offers us a chance to taste the food that must be served in Hell's cafeteria. "Tommies (sic) Country Style Restaurant", if you ever come across it, should be avoided or better yet demolished, even if the alternative is Arby's, unless you're interested in ogling teenaged white-trash waitresses, although maybe Arby's is good for that; I haven't been there in a while.
Grand Rapids is looking pretty bleak when we arrive, after dark. The Fallout Shelter is a good name for the club, although "Urban Blight Shelter" might be more appropriate. It's raining cats and dogs by the time the show starts. Guess what -- the opening band is a high-school funk-ska outfit that draws a far better crowd than we do. Eric Heemsoth is our promoter for the evening and we're glad to see a friendly face. The sound is terrible -- way too loud in a cramped brick box. By the end of the Sinkhole set, everyone has left except for Heemsoth, his friend Gary, NSB, and two die-hard kids.
Afterwards, I sit in the Dreamer and drink a Busch. Eventually we venture into the alternative-dance bar ("The Reptile Room") attached to the Fallout Shelter and I imbibe a couple of funny-colored sissy drinks, but I can't muster up the desire to get drunk. Shock and Rock are in fine form and cut up quite a rug. The troops become frustrated, however, by the prevalence of midriff-baring, shiny top wearing, not-interested-in-grubby-weirdos nymphets gyrating to techno and ambient beats. Somehow an annoying, talkative drunken reveler whose claim to fame seems to be having booked Niel Diamond into the theater venue down the street, attaches himself to our entourage and begs a ride in the Dreamer by dint of his purported knowledge of local geography as we debark for a rumored Denny's. I'm driving the Dreamer for the first time, as I seem to have preserved a sobering soberness, something generally in short supply. The Dreamer drives like a really really big van. After driving for miles along an endless highway lined with every sort of unattractive business except for all-night family-style restaurants, we see Denny's. We don't eat there, however, because they apparently are tackling the once-a-decade grease removal project from the kitchen ventilation system. Salads and drinks are available, but no hot food. Instead, we stand outside and awkwardly try to formulate a plan that somehow accomplishes the goals of 1) getting everyone their fair ration of family-style grub, 2) brings everyone together at the same time while somehow losing our unwelcome companion, 3) getting us into bed right away, and 4) getting us the hell out of this depressing place.
In the end, the Si'hole posse heads off to Motel 6 via the Taco Bell drive-thru (I order 3 crunchy tacos) in order to accomplish 3 and avoid 1, while the Dreamer crowd makes noises about visiting the adult-bookshop with peepshows a couple plazas back, but instead, as far as I know, gets a head start towards Milwaukee via the Taco Bell drive-thru, thus acheiving 4 and avoiding 1.
Wed, Oct 30, The Rave Bar, Milwaukee WI
Using the Motel 6 guidebook to orient ourselves, we set out for Milwaukee. The drive is uneventful, we gain an hour changing time zones, and we arrive in Milwaukee by midafternoon, after seeing entirely too much of Shock's ass exposed through the back window of the Dreamer. The Rave Bar is part of the Eagle's Club, a gigantic entertainment complex including a 500-cap "small" room (where ZZ Top is set to play the next night) and a ~2000 seat ballrom (where a board w/photos and a big scary painting commemorate Buddy Holly's last concert here 40 years ago before meeting his fate as the subject of a Don Maclean ballad). The Rave Bar itself is a comfortable dingy rock bar. There are some bulletin boards with collages of photos from Paul McCartney concerts at the enormo-bowl, plus Billy Idol, Motley Crew, Sting, Janet Jackson, etc. This place actually has a small, reasonably nice backstage area with a couch and a table right next to the stage, someplace where you might actually sit down and read a magazine before playing.
China Taste, in which we get a taste of the Chinese custom of waiting 45 minutes in a barren formica wasteland before getting your mediocre take-out. Si'hole heads over to Mark Riddell's (our friend from High School and beyond) place, meet his roommate, eat our food, & return to the club. The Smocks open, and mercifully don't play any ska or funk. NSB plays, and the sound is actually pretty good. Decent crowd, not a lot of movement. Nick Rock shows everyone what he's got -- geez, two Markel asses in one day is a little much. We play & it's fun. There are one or two people there who know our songs, plus a kid who wears mittens the entire night. Alligator Gun rock the house next. They have a fairly mighty two-guitar thing going.
Nick finds a female admirer; apparently the de-mystification approach works. Tom Carter, another friend from high school who's attending law school in Madison, is at the show, and Si'hole plus Mark and Tom go to Denny's and collect our fair ration. Tom goes home and the rest of us crash at Mark's house.
Thu, Oct 31, Concert Cafe, Green Bay, WI
It's fucking cold in Milwaukee, and I haven't brought a real pair of pants. Instead, I'm wearing cotton shorts and a pair of long underwear. This proves to suck for most of the rest of the tour. Eliot and I have each brought laptop computers with us under the pretense of maybe doing some actual work, and in the morning I stay home and take a stab at it while the rest of the crew wisely takes a tour of Milwaukee's thrift establishments. Eliot buys a pretty nice brown coat for $4 (perhaps you've seen him wearing it). Jon gets a sweater and an attractive varsity hockey jacket.
It's afternoon, and time to take the Miller Brewing Co. tour. Apparently, Anheuser-Busch can rest easy knowing that Miller won't soon catch up in the marketing department. The big copper tanks and stuff are pretty cool though.
Off to Green Bay. We wander a bit before finding the club, situated between a tattoo parlor and a porno shop. We're playing w/ Cub tonight. They're handing out candy at the door, and many of the kids in attendance are in costume. Some of the standouts are: Darth Vader, an angel, a public masturbator, Eliot's Princess Leia costume (two bagels duct-taped to either side of his Niagara Falls headband) and a kitty cat.
There's a modern pinball machine in the club, and also a very weird Gottleib game with a Chicago Cubs theme, dated 1985. It has four baby flippers, an alphanumeric LED display with small digits, is really slow, and is tilted egregiously to the right. It's clear from playing this machine why Gottleib disappeared in the face of competition from Williams in the form of Comet, Funhouse, High-Speed, etc. In any case, the Cubs machine is pretty interesting.
Opening band is punk, not ska. Fairly good turnout, lots of good costumes. NSB rocks. Midwesterners don't jump around too much. We play and get a bunch of A.G's requests (we only do Deep End) but there are lots of actual fans in the crowd. We do a couple short encores and then clear the way for Cub who please the crowd for 45 minutes.
Tom Carter shows up just as we're finished playing. The Rev. Norb is allegedly present, although his costume is good enough so that I don't recognize him anywhere.
We go to the local yummy diner where I eat a burger and foolishly, a delicious big frigid chocolate shake which drops my core body temperature to dangerously low levels.
Jon's brother-in-law's mom Linda has a vacant house in Green Bay that she's selling, which she has offered to us to stay in. The house is, as they say, "something else". It's the kick-ass wealthy hip young family dream house from circa 1975. A generally brown color scheme, with all the tricked-out fixtures and appointments, and it's in fabulous shape. If you lived here, you'd have no trouble getting laid. The kids' room has a built-in loft with skylight. There's one half bath, one full bath with hot tub-style shower/tub, a full master bath off the master bedroom containing toilet, bathtub, separate sink, and a separate shower alcove with a teak bench. Fireplace in the round. Mini fireplace in the living room. Music alcove with piano and electric organ. Fancy dual sink with third drain devoted to the garbage disposer.
We're like a bunch of excited kids in this place. Everyone's walking around, saying things like "Check this out, they've got ---" (fill in "wet bar", "fancy built in lighting fixture", "cavernous walk-in closet", "spacious laundry room", "Neil Diamond records", "rod hockey"). After a while, we settle down a bit and play some Pictionary (Chef and Pat get shut out by Jon and me), rod hockey (awesome), etc. I stake our the master bedroom's walk-in closet as my private sleeping area. On the morrow, we discover the deck and wooded lot. At the appointed hour of 10 o'clock in the morning, the realtor shows up and is somewhat surprised to discover eight scumbags occupying the premises. We beat an awkward retreat and hit the road towards the Mini-apple.
Fri, Nov 1, U of Minn. Coffman Student Union, Minneapolis MN
On the way we sample Wisc-Mex cuisine, pass through the spelling capital of Wisconsin, and narrowly escape being sent dozens of miles out of our way by a retarded highway interchange.
In Minneapolis we're greeted at the Student Union by our host Krista. The Golden Gophers have quite a union building and we enjoy the game room while waiting for the show to happen. Still no sign of the Dreamer. Things get pretty tense when 7:30 looms near and still no sign of NSB and Chris. We're looking pretty unprofessional (hey, what do you want?), Krista is getting nervous, and they finally walk in at around 7:29. They have been victimized by the same retarded highway exchange, but more severely. The eagerly awaited Breath is whisked onto the stage and launches into a pair of ripping tunes. Then, a hitch. Graig is arguing with the soundguys about getting guitar in the monitors. One more song, during which the guitar suddenly starts blasting into his tender ears, and he's had enough, stomping offstage after a short denouncement of the soundmen's competence. The sound guys are in fact incompetent, as well as arrogant and stupid. Pat is in fact upset over not getting to play more. The rest of us are in fact disappointed to miss the remainder of their set. Eventually it is determined that NSB is in fact done, and Sinkhole takes the stage. We play for 30 or 40 minutes and get a number of requests from a receptive audience.
After the show, we're taken to a Bohemian-Mexican restaurant where they provide crayons and table-paper for doodling. Jason Knudsen is flatteringly eager to see me in action with the crayon, although I'm a little embarrassed to produce nothing but a devil-face, part of a nose, and some unappealing abstract shapes whilst he fashions a beautifully rendered scene of a giant worm emerging from a manhole to threaten a doggie and a fire hydrant. Nevertheless he takes the paper with him and convincingly proclaims his excitement over owning an Ulrich original. Our fucking food never arrives at our table, even though everyone else in the group is done eating, and I'm pretty hungry by this point. We beat a retreat, waiting a few more minutes until our burritos show up in take-out containers, and then proceed to the house of Jason, Jamie, Krista, and a couple other people. Jason is in the doghouse apparently for letting a friend of his use the house's washer/dryer, and a long apologetic note is magneted to the fridge. NSB and Chris go with a friend of Chris's to another house in the neighborhood, and report back on a bacchanalian breakfast experience involving Vegan/punk nymphets. Back at Chez Knudsen et al, it's dorm-style sleeping which is pretty fun.
Sat, Nov 2, St. John's University, Collegeville MN
In the morning the Si'hole drives around looking for cool record stores n' shit, but the cake is surely taken by the
*** MALL OF AMERICA ***
This is a former baseball stadium that has been converted and expanded into a shopping mall, but not like any mall you've ever experienced. It's really more like a self-sufficient space station or something. We guestimate the population of this thing to be about 100,000 people. There are literally miles of stores on 5 levels. In the middle, there's an amusement park. That's right, an amusement park, but indoors. There's a full-size roller-coaster that winds over the landscaped, tree-planted grounds. The ceiling is steel and glass, letting in plenty of natural light. There's a log-flume ride, a ferris wheel, one of those ships that swings side to side, and that's just on the side near us. And the place is _packed_ with people. After our minds are sufficiently blown, we get back in the truck and return to Earth.
We head northward towards St John's University. It's an all-male Catholic institution in a very cold place. We're playing at Brother Willie's Tavern in the student union, which has Fish Tales among other good pinballs. There's a small but solid turnout, including a few ladies who have been bused in from St. John's sister school across town. We get to watch the Porcelain Boys who are good, and then see NSB with Chef debuting on second guitar for one song.
On the way home, I'm riding in the Dreamer, listening to the Chef tell me about his $50000 tune. Apparently when he was in high school and actively playing the saxophone, he used to hang out with a pop producer/studio guy, and the Chef wrote and recorded an instrumental song that later got used as background music in various commercials and was covered by David Sanborn on some album. It's called "Take It Easy" or something like that. Chef tells me he's planning on picking up the sax again when he gets home.
We stop to get our ration of grease at a restaurant called Happy Chef. In the parking lot there's a 25-foot statue of a happy chef, who at the press of a button emits witticisms like "Why is a glass of water hungry? Because it always eats all the ice."
We stop at Chez Knudsen to crash.
Sun, Nov 3, Fireside Bowl, Chicago IL
Off to Chi-town. During the trip through Wisconsin we are lured by a flashy marketing campaign to stop in Oneonta at the (world-famous) Norsk Nook. Our family style dinners are quite satisfying, featuring real meat, tasty gravy, and delicious mashed potatoes. By this point, though, after eating twenty or so consecutive meals in the midwestern United States, I'm ready to go on a steady diet of raw carrots and celery, so I'm not sure I fully appreciated the wonder that is the Norsk Nook. Perhaps I shall return someday.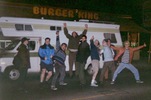 We get to Chicago and locate the Fireside Bowl. It's a bowling alley, for real, one of those neighborhood joints that dot the land, with ten or fifteen lanes, a bar, pool tables, and a stage where punk bands play. Mark Riddell shows up and we commence a vicious bowling bout between New Sweet Breath & crew vs. Sinkhole & friends. Mark is declared MVP. Bryan Mussulman is in attendance with his date Kristine. Art "Old Man" Fridrich is there, as is Pat Houdek. Otherwise, the turnout is a little thin. I recognize a couple of ladies who were at the Milwaukee show, but apparently the Chicago punkers were wrung out by the Bollweevils show the night before and stay home in droves.
The high-school age opening band plays in a distinctly yet pleasantly Green Day style, with no trace of ska.
Graig gets naked for "Cherry".
No Empathy plays, then we all pack up and retire to a Mexican restaurant in Wicker Park that Bryan leads us to, and we enjoy delicious foods. Jon, Eliot and Chris pack into the truck and start for home. The rest of us go to a bar across the street where they're having "Safari Night", play a little inept pool, have photo booth photos taken by Bryan's friend Kristine, and otherwise attempt to carouse. I'm unable to muster up much enthusiasm for partying, so after a while Bryan and I go back to his place.
Bryan shows me around his loft, which he's renovating with his roommate. It's in downtown Chicago, and it's pretty cool. I excrete one of the largest piles of poop in a storied history of poops, into Bryan's previously innocent turlet and then turn in.
It's three in the morning, or is it 4:00? Bryan's roommate's alarm clock says 4:00, but my watch says 3:00. Did I adjust my watch to Central Time when we drove to Milwaukee, four days ago? I think I did, but I'm not sure. But why would a Chicago resident have Eastern Time on his alarm clock? This doesn't make sense, and it _is_ important, since I have to catch a flight to Boston at 6:30 AM, which is either 2 1/2 or 3 1/2 hours from now, depending on what time it really is. I remember looking at the clock at Fireside Bowl, but I can't remember if it agreed with my watch or not. I definitely didn't think so at the time, but when you've been on the punk rock tour for ten days, the difference between 7 and 8 o'clock isn't normally your foremost concern. I'm in a little bit of a panic. I definitely don't want to miss my plane. On the other hand, I definitely don't want to get to the airport an hour early (is it even open at 4 AM?) and have to spend an extra miserable hour in those miserable gate chairs, half asleep and half awake. I tiptoe to the kitchen. Does the microwave have a clock? No. Bryan is fast asleep by now, and I'm not too eager to wake him up so I can ask him what time it is. Speaking of asleep, that's what I'd like to be right now. Fuck.
Ok. Get a grip. I must have changed my watch, I always do. Plus I like to look at my watch; if it were off, I would have noticed by now. Daylight savings ended last week or so. Bryan's roommate must not have set his alarm clock forward yet.
I set the alarm for a nominal 5:45, really 4:45, and settle in for a delicious 15 winks. The alarm beeps, I turn it off, groan, stumble to my feet, say goodbye to Bryan, bundle up, and hit the pavement. I walk a few blocks to a Hilton, grab a cab at the stand, get to the airport on time, step on the plane, and attempt to take a nap. The tour is over. The onslaught of chicken fried steak, Wisconsin cheese, whipped potatoes and gravy has ceased. I vow to purify myself by eating nothing but broccoli for three days.
THE END
---
G+ comments here