Home
| Records:
Groping For Trout
,
Space Freak
,
Core Sample
,
Retrospectacles
Retrospectacles


---
If it's your belief that one of the reasons today's rock is so bereft of personality is that all sense of show business has been drained from the music, then a look back at the career of Sinkhole offers proof positive that it wasn't always thus. Retrospectacles offers a comprehensive overview of the band, from its art–rock days — which produced top 10 hits in "Wreck On The Highway," "Never Is Now," "Waterbug," and "Lightbulb," — to its years as a perennial album–rock favorite — with offerings ranging from flights of fancy ("Tumble Mat," "Fudge Bar") to proto–power ballads ("Spooge," "See-Through") to songs reflecting the working–class roots of its audience ("Smell Isn't Everything," "Donut"). The band eventually succumbed to a shift in musical tides and just plain silliness ("Dogstein," "Go Ahead, Eat My Pretzels"), but for a time, this disc suggests, a satin–suited pomp–rocker was something to be. Also included: 7 previously unreleased mind-expanding demo tracks from the band's "experimental" period.
---
Retrospectacles is Sinkhole's fourth full-length album. It consists of 7 new songs and 12 songs released on previous albums. We recorded the new songs on March 1, 1997 with Stephen Wardlaw in his basement in Amherst MA. We released it on Dr. Strange Records.
The album has been hard to find for a while. Now, in 2008, because we can't leave well enough alone, we are releasing the album under the Creative Commons Attribution License, to make it easier to find and listen to.
Share & enjoy.
Nowadays because of computers you can listen via Google Play, Spotify, iTunes, YouTube, etc.
---
Audio
The audio files (in several bitrates) are hosted for download at the Internet Archive.
You can also try this Internet Archive Flash player:
---
The tracks are also available on Jamendo. You can download from there, or use this player here:
---
Images
Here is the scanned artwork. Click on the images for 300 dpi versions.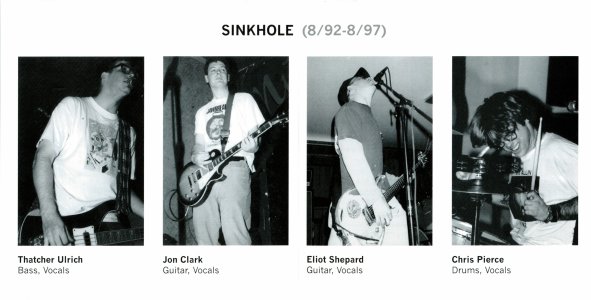 ---
License
You may freely copy the audio and image files and use them any way you want to.
If you modify or incorporate the work, please credit:
Sinkhole - http://slower.net/sinkhole
Legal details:

This work (collection of audio and image files) is licensed under a Creative Commons Attribution 3.0 Unported License.