The A.G's
1987-1992

This Earth Sucks RER 013


---
This Earth Sucks is a collection of all the studio recordings made by The A.G's, including the first three 7" EPs Bryan's Car, A Mind Is A Terrible Thing To Waste... and Bryan's Song; the full-length album Cirkus Berzerkus; and four songs that were previously unreleased.
We released the whole shebang as a 34-track CD on our own label, Ringing Ear Records in 1996.
The liner notes cover the history of the A.G's; click here to read.
The album has been out of print for a long time, and the record label dormant. In 2010, we released the album under the Creative Commons Attribution License, to make it easier to find and listen to.
Lately we also have put it up on the download/streaming services like Google Play, Spotify, YouTube, etc
---
Audio
The audio files (in several bitrates) are hosted for download at the Internet Archive.
You can try this Internet Archive Flash player:
---
The tracks are also available on Jamendo. You can download from there, or use this player here:
---
Images
Here is the scanned artwork. Click on the images for 300 dpi versions.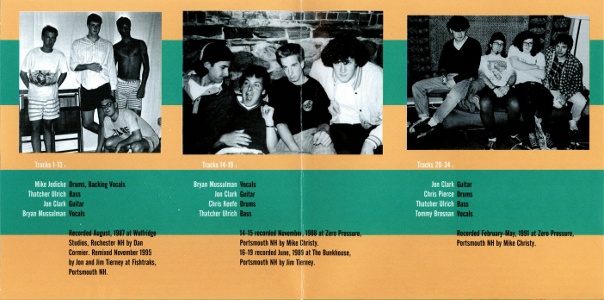 ---
License
You may freely copy the audio and image files and use them any way you want to, with the exception of "Jesse's Girl" by Rick Springfield, (c) 1980 Muscleman Music/Portal Music (BMI), "N.Y.C. Tonight" by G.G. Allin, and "Good Girls Don't" by Doug Fieger (c) 1979 Eighties Music (ASCAP).
If you modify or incorporate the work, please credit:
The A.G's - http://tulrich.com/ags/
Legal details:

This work (collection of audio and image files) is licensed under a Creative Commons Attribution 3.0 Unported License.