Records: This Earth Sucks
You sometimes hear people talk about their high school garage band. Well, The A.G's was our high school driveway band. While the garage band is a distinctly suburban phenomenon, we neighbor-free teenagers of rural America (southeastern New Hampshire, in our case) had an even better place, free of exhaust fumes, oil spills and cat boxes, to rock out. So it was designated drummer Kjell Youngren s driveway in agriculturally-minded Lee, NH that was chosen as the site of the first ever rehearsal of the A.G's back in September of 1985. Present at that historic meeting of the perverted minds: Jon and Thatch on guitar and bass; host Kjell pounding an odd conglomeration of snare drum, cymbal, and plastic buckets; vocalist Bryan Mussulman, who got the job after never having gotten around to learning the bass the previous summer; and second and third guitarists Tom Carter and Eliot Shepard. We wrote our first song, "Taking A Shit," that day, but it was to be our last session in the driveway: Kjell and his buckets were quickly replaced by ringer Mike Jedicke, and Tom and Eliot, neither of whom harbored lasting enthusiasm for the hardcore punk musical approach, drifted out as well. Thatch's basement became our new home.
With the new lineup in place, we practiced, played some shows, and actually improved a little over the course of the next 9 months or so. We even managed a release of a split full-length cassette with California's Stukas Over Bedrock on pal Pat Houdek's tape-only label P&S Productions. But then it came time for Bryan and I to go away to college and the A.G's were mothballed for the duration of our freshman year.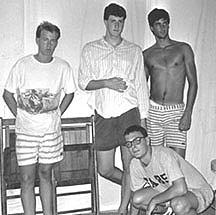 The following summer (we're in 1987 now), Bryan and I came home for vacation, we wrote a bunch of new songs, practiced, and at the end of the summer, we went to a local recording studio where we recorded the 14-song demo that eventually became our first two 7"s. You'll hear 13 of those songs at the start of the This Earth Sucks CD, and if you notice that a few screw-ups were left on the recording, there's a good reason for it. The engineer, Dan Cormier, who ran the studio out of a couple of extra rooms in his parents' house, had a lot of homework to do that night, so he wanted to get the session over with as soon as possible. Therefore, we were discouraged from doing any re-takes, though, as you can hear on the recording, we could have benefitted from a few. Overdubs were kept to a minimum as well, so although this was a recording done on an 8-track deck, most of the songs were actually recorded on just 5 tracks. Still, in my opinion, this was the best recording we ever did. One incident from that session sticks out in my mind: while Bryan was recording the vocals to our magnum opus "Taking A Shit", the extraordinarily laconic Cormier laid his head on the console, silently paralyzed by laughter.
That fall, in between college classes for Bryan, myself, and now Thatch, we negotiated our first record deal. Unforunately, it was with the infamous Doug Moody and his ultra corrupt Mystic/Super Seven Records. Doug had gotten ahold of our demo from Pat Houdek and wanted to do a 7" with some of the songs from it. Eager to have a record out, no matter who it was with, we signed a contract with Mystic. They actually did a decent job with the first 7", the 8-song Bryan's Car EP. The covers looked good and were printed on cardboard, the mastering was fine (Mystic had been notorious for their terrible mastering jobs), and we even got about 50 copies of the thing. The problems with Mystic started with the second, unauthorized A.G's 7". That next spring (1988), I got a call from a friend telling me how much he was enjoying the new A.G s 7" he had just picked up. I thought he was talking about the Bryan's Car 7", but he assured me that he had a new EP, this one called ...Because A Mind Is A Terrible Thing To Waste. Turns out, Mystic had taken the remaining 6 songs off our original master tape, xeroxed some artwork from an A.G's t-shirt we had sent them, and threw together a follow-up 7" without even asking our permission. They didn't know what the names of most of the songs were, so they made up a few titles of their own, and then they managed to get the labels glued to the wrong sides of the record. Numerous phone messages for Doug Moody were left unreturned, and that was the end of our relationship with Mystic. To this day, we have never received a single copy of that EP from Mystic. We had to buy copies for ourselves at record stores.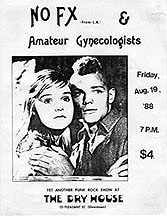 Brushing off our first major bout with adversity, we decided that with 2 7"s under our belt, it was time for the A.G's to head out on the punk rock tour and spread the good word to the rest of the world. Well, at least to the rest of the Eastern U.S. So in the summer of 1988, we bought our first Ford Econoline van for $600 and set off to tour the East Coast with fellow Mystic dropouts and then relative unknowns, NOFX. The tour, featuring the zany antics of our new 15 year-old Deadhead drummer, lasted about 2 weeks, during which time we played about half a dozen sparsely attended shows in YWCA halls, campgrounds, and even a couple clubs.
Some highlights:
* Waterskiing with NOFX on Lake Ithaca (at first, we couldn't get the boat started, so NOFX transplanted the battery from their van)
* Running across a very drunk El Duce of the Mentors in Virginia Beach
* Visiting the GWAR workshop in Richmand, after playing the adjacent pizza house, and later having a gun pointed at us in the parking lot.
* Squatting in the abandoned pad (complete with water-bed) of a local drug Queenpin in Morgantown, West Virginia
* Playing to an audience of two (both of whom left early) in Chapel Hill
But the generally positive reaction we received from our small audiences and the great fun we had with our new friends from the West Coast gave us enough of a taste of the freedom and adventure of the road life to leave us jonesing for more. At that point, all of our thoughts and plans regarding the band turned toward getting out on tour again. But first, it was time to go back to school.
After our problems with Mystic, we decided that it might be best to release the next 7" ourselves. So while we were home for Thanksgiving break in 1988, we spent an afternoon at Zero Pressure studio in Portsmouth where we recorded "Bryan's Song" and "The Pogey Song" with new drummer Chris K pounding the skins. Remixing "Don't Need Anyone" from our first recording (and second 7"), we packaged the three into a 7" that we released on our own label: Ringing Ear Records. Eventually, we managed to rid ourselves of 500 of the little black frisbees, but when it came time to re-press, the plant had gone out of business and our master had vanished forever. So if you managed to get ahold of a copy of the now-collector's item RER 001, hang on to it -- someday, that baby could be worth three, four, maybe even five dollars at your local record swap.
Summer Vacation '89 saw the A.G's back in the recording studio, this time at The Bunkhouse in Portsmouth, where we recorded about a dozen new tunes. Nothing from that session was ever released, but most of the songs ended up being re-recorded for our Cirkus Berzerkus LP in 1991. We put a few of the leftovers on This Earth Sucks. Then we went out on tour again, this time in a new (to us) Ford Econoline van, for 3 1/2 weeks. Once again we hooked up with NOFX for a few shows to start the tour, but after the first week or so, we broke off from the mother ship and ventured out on our own. It actually turned out pretty well, for though we missed the wacky hi-jinx of the NOFX boys, we still managed to play some good shows and make some new friends in cities like Flint, Minneapolis and Lincoln.
Highlights:
* Playing third out of approximately 20 bands at CBGB's in New York
* Fat Mike, in the van outside the Penguin Pub in Youngstown, OH, explaining that evolution couldn't possibly be the origin of the human race -- instead, UFOs brought Adam and Eve to Earth
* Sleeping at the "Scum House" in Erie, PA
* Opening for the Lemonheads in Kalamazoo
Once again, our relative success on the road left us hungry for more, and we determined that the following summer, The A.G's would do a months-long, full-U.S. tour.
The only real musical disconnect from our latest road adventure had been the style of drummer Chris. So, at the end of the tour, we once again decided to search for a new drummer. This time, however, we got lucky. I had found a new pen pal from the classified section of Maximumrocknroll. His name was Chris Pierce, a 17 year-old straight-edger whose favorite bands were Judge and Gorilla Biscuits, hailing from the neighboring state of Maine. I had traded a few Descendents live tapes with him, and in one of his letters he mentioned that he played drums, so I sent him a tape of The A.G's and asked him if he wanted to try out. The spastic little freak that showed up at my door that December didn't look like much, but boy could he play, and what's more, he had learned about 20 of our songs in the matter of a week. Mr. Pierce was hired instantly. A week later he played his first ever show with us at the legendary Anthrax club in Norwalk, CT.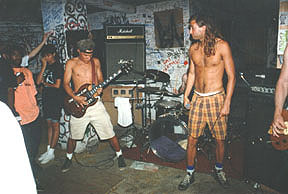 May, 1990 meant graduation from college for Bryan and I, graduation from high school for Chris, and one more semester of college to go for Thatch. We celebrated by subjecting ourselves to a gruelling 10-week, 15,000-mile punk rock road trip we called the Vibratour. Haunted by last-minute show cancellations, poor turnout at the shows that weren't cancelled, and an incredible knack for always playing a town the same night as the Ramones, the Vibratour was by no means a financial success. But we did, for the most part, manage to have a good time, and we got to see parts of the country none of us had ever been to before.
Highlights:
* Stumbling into a police stakeout in Ann Arbor
* Playing a basement party outside Milwaukee with Green Day
* NOFX performing unplugged at the Outhouse in Lawrence, Kansas
* Visiting the Grand Canyon, Mt Rushmore, and Wall Drug for the first time
* Playing a show at Howard Johnson's in Rapid City
* Rafting down the Boise River with friends in Idaho
* Opening for longtime idols the Angry Samoans at Gilman Street
* Eating at Alfredo's
* 4 crazy days and nights in Albuquerque with the Sedillo brothers -- tattoos, tamales, half-tubes, and too much wine
* A chance meeting with El Duce and the rest of the Mentors at The Alamo
* Visiting Mexico for the first time at Ciudad Juarez (where 3 of us contracted severe food poisoning)
* Making the TV news in Tampa
...and a whole lot of other stuff that wouldn't mean anything to anyone who wasn't there. We were broke, hungry and smelly virtually the entire trip, but looking back, it was the greatest adventure I've ever had.
Unfortunately, at the end of the tour, Bryan decided that he had had his fill of the punk rock lifestyle and that it was time to move on to other things. That fall, he relocated to New York, and the future of the A.G's looked dubious at best. But Mike Young, owner of Forefront Records, called saying that he wanted to do an A.G's full-length on his label, so we took out an ad for a "Singer/Circus Freak" in a local rag, and signed up the dimunitive Tommy Brosnan. With Tommy at the mic, we recorded Cirkus Berzerkus in the spring of 1991. The album came out late in 1991, and in the summer of '92 we bought our third Ford Econoline van (later owned by Rorshach and Doc Hopper), signed on Eliot Shepard as roadie (yup, the same shmoe who had been at the first rehearsal 7 years prior), and hit the road once again. This time the tour did not go very well.
In fact, we only made it about halfway through before we packed it in and drove home. Once again, cancelled shows and intra-band tensions were our scourge. The fact that no one seemed to have heard of the new album didn't help either. Somewhere between a state campground outside of Baltimore and a restless night at Reverend Norb's house amongst a plague of rabbit droppings, we came to the realization that no matter how hard we tried, or how bad we wanted things to work out, it just wasn't going to happen for The A.G's. Higher powers had collaborated to inflict what we called "The Curse of the A.G's" upon us, and no exorcism, no baptism, no confession could rid us of it. So we changed our name. With Tommy dropping out of the band and Eliot joining as second guitarist, we took the name Sinkhole (narrowly beating out Pus Dairy and the Abdominizers U.K.), and to this day we continue on as the world's only (as far as we know) Badfinger tribute band.
Jon and Thatch
From the liner notes to the This Earth Sucks CD

Back to RER page