Back to my Home Page


1. Reuben
So we are the proud owners of a 1995 Toyota Hilux 4x4 Double Cab bakkie (pickup truck).  Julie was the star of the fierce dickering session with Firoze.  Carlos, the guy at Blue Chip Services, which is the garage that our landlord recommended to us, thought 53,000 Pula (around $11,500) was a decent deal.

Julie has decided that our new vehicle's name is Reuben.  I have to admit, Reuben could use a makeover.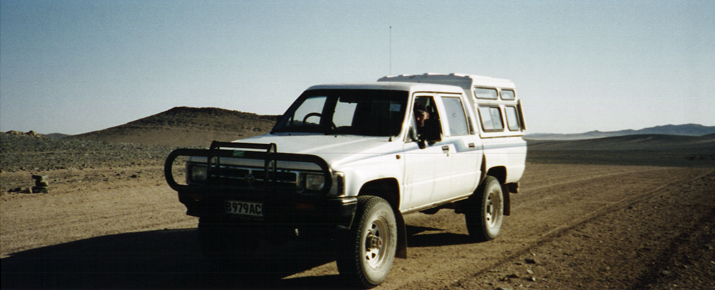 Reuben in later days

He's white, with a narrow purple, light blue and gray stripe along his length on either side, a high white steel canopy over the bed, and a big black bull-bar on the front.  (It's really the stripe that's gotta go.  There's an odious vehicle-stripe-mania here.  The Chico we rented had some kind of pastel squiggly brush-stroke on the side.)  Reuben's jacked up to the point where he wouldn't be out of place at a monster-truck rally.   However, he seats five in reasonable comfort, drives pretty much anywhere a car can go, and gets around 8.5 km/l (~20 mpg) for our normal driving routine.  I'm going to try to stop referring to Reuben as "he" now.

Immediately after purchasing Reuben, we dropped it off at Blue Chip Services so that Carlos could fix the long list of little maintenance items that needed attention.  This was on a Tuesday afternoon, Carlos thought he might be done by Thursday, but definitely by Friday.

We called Blue Chip on Thursday; not ready, the timing chain didn't have a master link so they have to replace it the hard way.  More calls on Friday.  On Friday afternoon, we were told that the repairs were basically done, but there were a few little details left; call back on Monday.  We called on Monday.  The vehicle was done, except they were still waiting to get the radiator back from the place that does to radiators whatever it is radiators have done to them, so call back in the morning at 10am.  OK, now it's Tuesday at 10am, we call, they say yeah, come on down and pick up your vehicle.

We come on down.  Carlos runs me through the list of things they've done, it looks pretty good.  However, I remember that he'd originally told me, when he'd looked at Reuben before we bought him, that the long-range fuel tank was shot.  Carlos had completely forgotten about the long range fuel tank, so he takes a look and says it doesn't look good, sit tight for a few minutes while we take it out and see what's going on.  We sit tight, and after a while he calls me back into the shop.  They'd removed the tank, which is made of plastic, and discovered a disturbing condition.  The tank was severely melted all along its top, to the point where there was a four or five inch gaping hole.  Carlos tells me that when you drive off road in the bush, there's a certain type of really fine, dry grass that collects in every nook and cranny of a vehicle.  He said that a bunch of this grass probably got caught up between the fuel tank and the body of the truck, and was ignited somehow, perhaps by a hot exhaust pipe.  The ensuing fire was hot enough to melt the fuel tank, creating the gaping hole, luckily not also creating a giant fireball that would have meant the end of Reuben and its occupants.  Said gaping hole is also another convenient scapegoat for my empty-tank adventure when I took the original test-drive.

Carlos tells me they don't make those fuel tanks out of plastic anymore. He advises me to make sure I have a fire extinguisher in the vehicle before driving around in the bush. He also tells me that really we should have some sort of extra fuel tank, since the normal fuel tank is so small (maybe 40 liters or so) making for an inconveniently short driving range for such a large vehicle.  He says he can install a tank that sits in the bed of the truck and takes up valuable space, or he can have a new extended-range tank made out of steel or "aluminium" (rhymes with "condominium") and fitted under the bed above the spare tire, where the plastic one was.  1750 Pula installed (~$400), so I tell him to have the tank made.  He seals the fittings where the old one was connected, and says he'll call when they're ready to install the new tank.

OK.  Meanwhile, our landlords are busy finishing our driveway/parking spot adjacent to our house, which is really pretty nice.  It's a flat, sandy area bounded by stone-and-mortar walls, partly underneath our sun-deck.  However, to get to it, we have to drive up a very steep section of dirt driveway, which proves to be a little tricky, and prompts us into our first use of Reuben's four-wheel-drive capability. I have to admit, Reuben must be bringing out my inner Redneck, because I get a major thrill every time I shift into four-wheel-drive.

I'm not going to tell you about how the free-wheel hubs were messed up, or how Blue Chip didn't seal up the fittings to the extra fuel tank properly, or how it took them two and a half days to install the custom built "aluminium" tank instead of the couple hours they'd originally estimated with me basically sitting in their office the whole time reading and rereading the same four issues of Tswana Motoring magazine which I won't be buying a subscription to.  But I will mention that they did lend me a vehicle when they had to keep Reuben overnight.  Not just any vehicle, but an Austin Mini GTS, owned by Carlos' daughter.  I don't know if you've ever seen one of these things; if not, imagine a Honda Civic shrunk by about a third and chopped down to 4 inches of road clearance.  Basically, it's a clown car.  It's particularly clownish with me driving it.  The crowds of people waiting for the bus who ordinarily wave vigorously when we pass by in Reuben, looking to hitch a ride, only stared incredulously when we zipped by in the Mini. Naturally, Julie fell in love with it, but fortunately we don't need another vehicle.
2. Americans to Zebras
A couple Saturdays ago, Julie and I went on an outing to the Mokolodi Game Reserve, along with our friend Stephanie who's also here on a Fulbright grant, Eric who works for the US DOD, and Natalie who's another American doing research here.  We agreed to meet at 3:45 at Stephanie's house and all drive together down to Mokolodi.  Julie and I hit the road around 3:15.  We're halfway to Stephanie's when Julie suddenly says, "Wait!  Did you unplug my computer?"  We'd been warned numerous times to unplug computers to protect them from power surges caused by lightning.  Anyway, I wasn't totally sure if I'd disconnected Julie's laptop from every piece of wire going into it, but we were running a little late and we had a game drive scheduled at 4:30, so we forged ahead.

We met up with our friends and headed off to Mokolodi.  The Mokolodi Game Reserve is a large parcel of land, about 10 km from Gaborone, that the government has set aside as a game park, and has reintroduced various large exotic mammals to.  They also have some tamed cheetahs and elephants, in addition to the wild animals.  The game drive is a two-hour ride through the reserve, where the driver and guide help you spot interesting animals in the bush around the meandering dirt roads.

Almost right away we catch a glimpse of a wildebeest.  Then, we meet up with the contingent of young African elephants and their expert Sri Lankan trainers.  Then we stop by the cheetah area.  Cheetahs are cool. These ones had the nonchalant attitudes of housecats, but without displaying the overbearing neuroses of ordinary cats, as they lolled around while they checked us out, checking them out.  Understandable, when you realize they could kill you and eat you if they felt like it.

We saw a rhino looking tough, zebras looking shy, a giraffe looking like a vague shape in the binoculars, lots of hartebeests, kudu, and other deer-like creatures looking bouncy, guinea hens looking funny.  Our game drive was marred somewhat by sporadic heavy rain and ferocious lightning, but it was still pretty cool.

Afterwards we ate at the game reserve's resident restaurant.  I had skewered ostrich, which was delicious, but I could have ordered "ladies rump" or "chicken boobs" instead.  It turns out we had also ordered...
3. Country-Fried Compaq
We got home late and exhausted from our grueling ordeal of riding around looking at animals, and eating animals for dinner.  The power was off, which is not that unusual when there's been a thunderstorm, so we flipped the breakers back on.  Julie's computer was in fact plugged in, but it looked as though the battery had run down, so I unplugged everything and we went to bed.

In the morning, I discovered that things were not well with the computer.  It sat silent and dark when I turned it on.  I pressed every key.  I pressed the hidden reset button.  I tried removing the battery. I tried it with the AC power, and without.  Nothing doing.  Next, I decided to take it apart, and see if there was anything visibly wrong inside.  Taking apart a laptop computer is always a good time.  No sarcasm.  They're a lot like ordinary desktops, but everything is really small, and it all fits together very tightly.  Like an Austin Mini, maybe.  Everything is designed to be taken apart, so they're full of tiny catches and latches and plugs and so on, and it really only works if you go in order, so it's like a puzzle.

The Leatherman tool got a serious workout (thanks Karl), with all the various types of fasteners.  The first few layers looked fine.  I decided that perhaps the CMOS settings got scrambled, so when I got to the point where I could access the memory-backup battery (like a large watch battery), I removed it and reinstalled it.  No luck, Julie's computer was still dead.

I kept at it.  I removed a metal plate covering the main board and processor.  I discovered a small circuit board, attached to the main board by a complicated plug and some cables, exhibiting the telltale signs of electronic armageddon: floral patterns of charred plastic, tiny components in varying states of meltedness, chips with literal chips blown off them.

This particular casualty was the modem.  There was no other visible damage, so I removed it and tried powering up the computer again.  Ha, ha, yeah right.  OK, well nothing I could do was going to bring it back to life, so I reassembled the magic box, and told Julie that we'd find a place to get it looked at by a competent technician.  As it turns out, there's a Compaq retailer in Gaborone, so there actually was a place for me to bring it on Monday morning.  What they're doing with it remains somewhat of a mystery to this day, but maybe they're fixing it.
4. FedEx, Expensive Rocks, Sales Tax
When I last wrote, I had ordered a new computer from a local company. The guy in charge of my order, Derek, had repeatedly failed to deliver when he said he would.  On the Monday that he'd "double guaranteed" the computer would be ready (having single-guaranteed it for the Friday before), I finally decided that enough was enough, and canceled my order.

Plan B was to have a computer FedEx'd from the US.  I placed a phone call to John Lewis in Boston to get the ball rolling.  It turned out that Bryan (another coworker) was getting ready to unload his machine, which was pretty much exactly what I wanted, a Dell 400MHz Pentium II. He packed it up and gave it, and about $600, to Federal Express, on Tuesday evening.  The FedEx lady in Portland ME told him it should get to me in 4-5 business days, but they couldn't guarantee it, as the delays on the Botswana end were unpredictable.  Bryan emailed me the particulars of the computer, along with the tracking number of the package, and I sent him money, via the magic of the Internet and PC banking.

All week long I tracked that package.  After Bryan dropped it off in Portland, ME, it flew to New Jersey, where it boarded a flight for Paris early Wednesday morning.  In Paris it met a flight to South Africa and was in the air again after only a few hours.  It landed in Johannesburg on Thursday morning.  Imagine my excitement... Gaborone is only an hour flight from Joburg, and there are four or five flights every day.  So, of course, nothing happened.  As far as Federal Express's web site was concerned, my new computer was just sitting there in the Johannesburg airport, the likely scene of the previous computer heist that had gotten me into this mess in the first place.

On Thursday I started calling the Gaborone FedEx agent.  On Friday they said it was at the airport, but it wouldn't be through customs until Monday.  Saturday we saw Zebras and Julie's laptop got fried,  Sunday I took the laptop apart, Monday I brought it to the Compaq dealer and then stopped by the FedEx agent.  They told me their customs guy, George, had gone to the airport, and to stop by in the afternoon.  I ran some errands in town, among them purchasing some fancy surge-arrestor devices at a place our electrician neighbor had recommended.  That was my first brush with Botswana's gray market, which left me feeling a bit confused and mildly disturbed.  But if you need a discount on surge-arrestors in Gaborone, I know who to call.

Anyway, I stopped back in at the FedEx office, and met George in person. He informed me that my package had arrived on Thursday evening, but that it hadn't cleared customs yet.  He'd call me tomorrow.

So on Tuesday morning, I got a call from George.  He told me I needed to pay about 2000 Pula (~$450) in customs charges in order to pick up my package.  I asked if I should come to the FedEx office to pay, he said yes.  I was pretty excited at this point.  Almost in my hands.  I went to bank, then to the FedEx office.  There was no package for me.  George had gone to the airport.  No one knew who I should pay the customs charges to.  George wouldn't be back until after lunch (i.e. 2pm).  The woman I tried to pin down on the procedure told me that normally FedEx pays the customs office, then the recipient pays FedEx back.  It made perfect sense to me, so where's my computer?  At the airport.  Can I just go to the airport and pick it up? No, only licensed customs agents can do that.  Can I go with someone else here?  No, George is our only licensed agent.  But I need that package!  Why doesn't George have a cell-phone?  Are you guys for real?  I did my best impression of an irate rich white person who will try to get everyone in the office fired and possibly put in jail if he doesn't get his package right away, which normally is way beyond my acting ability (the irate part, anyway), but I think I did OK.  The best the poor FedEx woman could do was tell me to call back at 2pm.

At this point in the story, I'm not feeling very satisfied by Gaborone efficiency at Portland, Maine prices.  I'm back in Gabane, fuming.  But George actually calls before I have a chance to.  He sounds pretty distressed.  I think my angry-lekgoa-act may have helped my cause.  It turns out that the only way we're going to get the computer today, and George is going to keep his job and stay out of the pokey (actually it's probably me who'll end up in jail if I don't my computer today), is if I do the driving.  So I drive into town for the third time that day, pick George up, and together we head for the airport.  On the way there, George tells me about the increasingly clever thieves who lurk in airport cargo areas. He had a customer who ordered a video camera from the US, for delivery by FedEx to Gaborone.  The package weighed in at 4kg on departure from the US, and arrived in Botswana still weighing 4kg.  George cleared it through customs, delivered the package, the customer signed for it and took it home, only to discover he'd bought a 4kg rock.

The customs office is quite a place.  I'm glad George is doing all the talking, and all I have to do is hand over a large stack of Monopoly money.  Before we go, we open the box to make sure I haven't paid the customs duty on a bunch of rocks.  Later, finally, I arrive home, weary but victorious.
5. Country-Fried Dell
Julie's home.  After lugging the computer from Reuben to the front door, I don't have the energy to bring it upstairs and unpack it.  I just sit in a comfy chair and sip ice water.  After a while we get bored, and I start to set up my new computer, my primary working tool, our link to home and everything American and modern and good.

I set up my fancy flat panel monitor on the desk.  I plug my new uninterruptible-power-supply into the wall.  I place the computer next to the desk, plug in the monitor, the keyboard, the mouse.  Everything's ready.  I flip the outlet switch.  POP!  I unflip the outlet switch. There is the pungent smell of burnt electronics.  All is not well.

I look at the power supply panel, on the back of the computer.  There is a two-way switch, labeled "115V - 230V".  It's on 115V.  We're in a 220V country.  We're very unhappy.  I sit in a daze.  Julie also sits in a daze.  After a few minutes, I pick up the nearest breakable object which luckily happens to be just the cardboard box which formerly contained the computer keyboard, and in a blind rage I bash it to tiny bits against a piece of furniture.  Julie's crying.  I'm lying on my back on the floor.  Things are very bad.

Things are bad for a little while longer.  Julie says maybe it's time for me to give up and just go home.  I say maybe it is.  I contemplate. From somewhere, I muster up a tiny pathetic shred of resolve.

OK, well maybe the POP was just the breaker flipping, and maybe that smell was just some crud in the power supply burning off, and maybe everything is just FINE, if we just change that switch...  I'm done taking chances, though.  I open up the computer and unplug the power supply from everything.  The visible components look fine, although the power supply definitely has a smoky aroma.  I flip the switch to 230V. I plug in, and flip the switch.  POW!  I unflip the switch.  The grating of the computer's power supply has just ejected a bright yellow ball of fire and a deafening explosion sound.  This is definitely not my day.

OK, well, as the immortal Jeff Spiccoli, in the movie "Fast Times At Ridgemont High", after he and his buddy crash the Camaro they've borrowed from the school's star linebacker, says, "My dad's a TV repairman...  he's got all these *radical* tools... we can fix it!"

I can fix it.  I just need a new computer power supply.  No problem. Derek probably has fifty of them in his workshop.

So bright and early the next morning (Wednesday) I drop in at Computer And Technical Services to see Derek, brandishing the fried remains of the part I'm trying to replace.  Of course, they don't have one in stock.  It's an ATX power supply, which is a newer design with a different type of motherboard connector.  Derek's boss, the Scottish guy who when I arrived was having a hissy fit in the back room to the great amusement of the receptionist, informs me that I'll never be able to buy an ATX power supply without also buying the computer case to go with it.  I don't like Derek's boss. Not only doesn't he have what I want, but he insists on telling me ridiculous stories.

100 yards down Haile Selassie Road, I pass Panasonic Business Systems, who I've heard also sell computers.  In a back room there are three Bulgarians and a Motswana busy putting together or taking apart many computers and parts of computers.  They cheerfully provide me with a brand spanking new ATX power supply, and make no demands to provide me with a case.  I go home.  I put the new power supply in the computer. I'm hooking things up when I discover a disturbing fact: my newly purchased power supply lacks one of the specialized motherboard connectors that's on the original Dell power supply.  Hmm.  That's weird, and probably important.  I plug in what I can, and decide to give it a shot anyway. There's no fireball, but there's no power either. Somethin' just aint right.

After studying the situation for a while, I determine that the Dell Computer Corporation has done me wrong.  They have created a proprietary power plug for their "special" (not really) non-standard Dell motherboard, that is only accomodated by the "special" (not really) non-standard Dell power supply.  They have also lost a loyal customer, namely me, who can't believe they'd do such a stupid and annoying thing.  So I need to get an actual Dell power supply, because Dell is too clever to just use the standard ATX plug configuration that every other computer in the world uses.  No wonder their stock is tanking.

So I call the local Dell dealer.  He's no help.  For one thing, they don't even sell the computer model I have in Southern Africa.  He doesn't happen to have any spare power supplies.  Apparently I'm not the only stupid American who blew up his expensively imported Dell computer by forgetting to change that little power-supply voltage switch, but the others had the sense to blow up their computers and seek spare parts before I did.  The Dell guy says the next best alternative is to call Dell South Africa in Joburg, but if they don't have the power supply, then they'll have to order it, which will take around 3 weeks.  I call Dell South Africa; they don't have it either.

So I've pretty much exhausted the official channels.  I'm looking at these two power supplies sitting on the kitchen table.  The one I've just bought has a key printed on the label that identifies the voltage of each wire based on its color.  Interesting.  I look at the burned-out power supply.  It doesn't have a convenient key printed on it (way to go, Dell), but when I remove the cover I'm able to see the labels printed on the circuit board where the wires are connected, and see what voltage goes with what color wire.  It's the same voltages and signals with both, they're just connected to different pins on the connectors, with different colored wires.

I can fix it.  I drive back to town.  I purchase all these radical tools: a multimeter, a soldering iron, solder, some wire cutters, some electrical tape, and some cable ties.  (Getting these parts was its own special cultural experience.)  Already, this is a lot more fun than trying to get people fired.  I set up on the kitchen table. I've got everything I need.  I carefully examine the power supplies in turn, identifying the voltage of each wire and noting where it appears on the motherboard connector.  For a couple of hours I snip, strip, twist, solder, tape, and wrap.  Even if I blow up the computer again, at least I got to use the soldering iron.

It worked.  The computer is up and running.  It's late Wednesday evening, and the quest, for now, is over.
6.  OK, Enough Depressing Stuff
So, that was about three weeks ago.  Since then, we've all been feeling much better.  I've been working pretty hard and making some progress on the project.  No further problems with the computer that can't be blamed on Microsoft.

In the next installment:
Butternut squash: work of the devil
When you buy a used VCR for $150, don't buy the 15-year-old Hitachi
Funny Setswana-isms, like the word for "June" means "Don't-visit-at-night"
---
tu@tulrich.com | Thatcher Ulrich